How to Properly Store Wine
Properly storing wine brings out the best flavor and fragrance of wine. There are three key factors that affect wine: temperature, humidity, and light.
Temperature is our main concern when storing wine. The temperature at which wine is served has a significant effect on its taste, which is why we recommend tested, tried, and true wine refrigeration. Recommended temperatures for best serving wine are:
Red

Beaujolais: 54-59 ºF
Bordeaux: Red 62-67 ºF
Cabernet Sauvignon: 62-67ºF
Chianti: 58-63ºF
Merlot: 58-63ºF
Pinot Noir: 58-63ºF
Rioja: 59-68ºF
Port – Tawny: 50-55ºF
Port – Vintage: 62-67ºF
Syrah: 59-68ºF
Zinfandel Red: 62-67ºF

White

Bordeaux: White 50-54ºF
Chardonnay: 45-50ºF
Chenin Blanc: 43-48ºF
Gewurztraminer: 48-50ºF
Pinot Gris: 45-50ºF
Sauvignon Blanc: 50-54ºF
Others

Champagne: 40-44ºF
Dessert Wines: 45-50ºF
Rosé: 40-44ºF
Sparkling Wines: 45-50ºF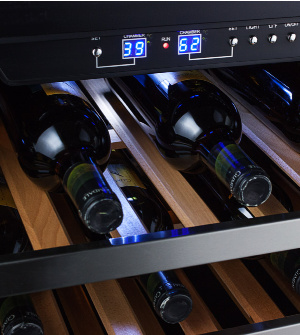 Humidity Protection
When the humidity is too low, you risk a dried out cork. If it is too high, mold or mildew may grow.
Store Wine Horizontally
Storing wine horizontally, prevents the cork from drying out and breaking into the wine.
Store Wine at the Right Temperature
The warmer the air, the more moisture it holds. Not happy with your current storage results? Consider opting for a
Wine Cellar
. Wine cellars are designed to maintain stable temperature optimal for wine to store and aging.
Temperature Stability
Not Too Cold, Not Too Hot
Temperatures higher than 70º F ages the wine prematurely and "cooks" the wine, ruining its flavors and aromas. Extremely cold temperatures, 22°F or lower, can thicken the wine into slush. White wines lose their fruit aromas,and red wine will change texture when exposed to colder than optimal temperatures.

Downsides of Multipurpose Refrigerator
A standard kitchen refrigerator is typically opened and closed dozens of times throughout any given day. Each time the door is opened, the interior is exposed to room temperature, causing temperature fluctuations within the refrigerator. The compressor works to compensate the difference, and causes refrigerator to shake. These fluctuations and vibrations work against your wine and cork.


Benefits of Wine Cellar
Wine refrigerator are specifically designed to store wine at the right temperature with little variation.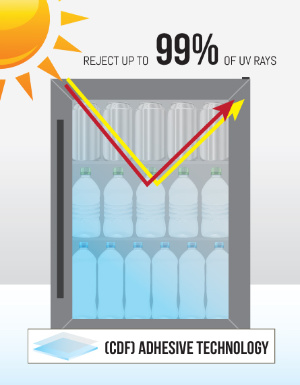 Protection from Light
Did you ever wonder why wine come in a colored glass bottle?
The main reason is to prevent sunlight from directly hitting and oxidizing the wine. Too much oxidation ruins the structure of the wine.
Wine Cellar Doors
Wine cellar doors are optimized to filter out unwanted UV rays. The solid door or a tinted glass finish acts as an effective filter.
Custom Tinting
Summit offers custom glass door tints to refrigerators. Click here to learn more about
Summit Glass Door Tints.