Cooking By SUMMIT
SUMMIT offers a complete collection of cooking appliances, with a variety of ranges, cooktops, wall ovens, speed ovens, and microwaves sized for space-challenged kitchens.
Download our full cooking catalog to explore our newest cooking products!
Apartment Sized Ranges
We carry a wide assortment of gas and electric ranges in 20", 24", 30", and 36" widths. Some of the highlights from our stove collection include:
Finish options in white, black, stainless steel, and bisque
'Slide-in look' style ranges for more flexibility in kitchen design
20" and 24" wide electric ranges with smooth ceramic glass cooktops for easier cleanup
European ranges for 24" cutouts in stainless steel style
Value line ranges made in the U.S.A.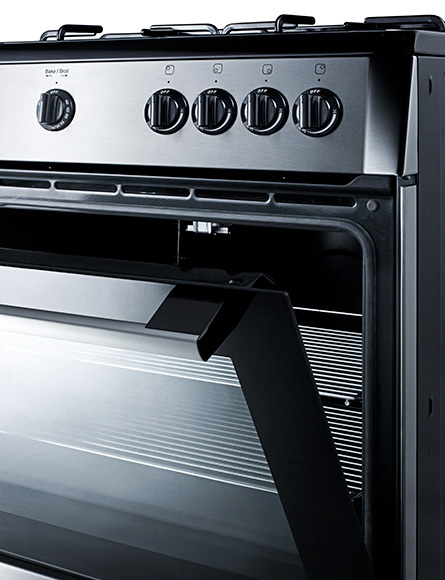 Slide-in gas range PRO24G, made in Europe
Gas-On-Glass Cooktops
Made for us in Italy, SUMMIT's gas-on-glass cooktops bring culinary excellence to unique cutout sizes. All models include smooth black ceramic glass surfaces, heavy duty continuous cast iron grates, and thermocouple flame failure protection for added safety. These units offer more precision in heating to allow you the perfect control over your cooking.
24" Smoothtop Electric Cooktops Made in the U.S.A.
Our collection of smoothtop radiant cooktops includes single, double, and triple burner models made in Europe, with 110V and 220V choices. We are also proud to manufacture four-burner electric cooktops in our New York facilities. These models feature smooth Schott Ceran glass surfaces in white or black finishes, along with stainless steel reinforcement frames, designer push-to-turn knobs, and quality burners made for us by E.G.O. in Germany.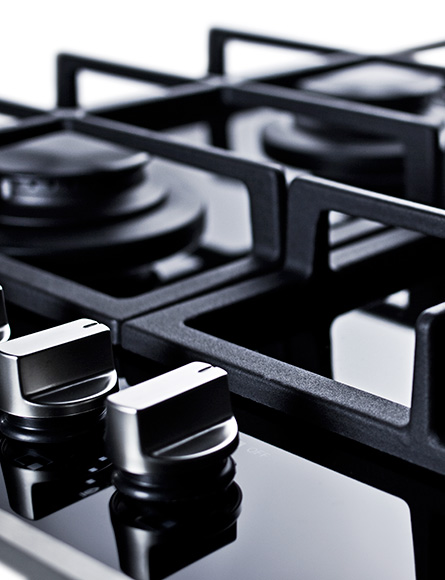 GC424BGL 4-burner gas-on-glass cooktop, made for us in Italy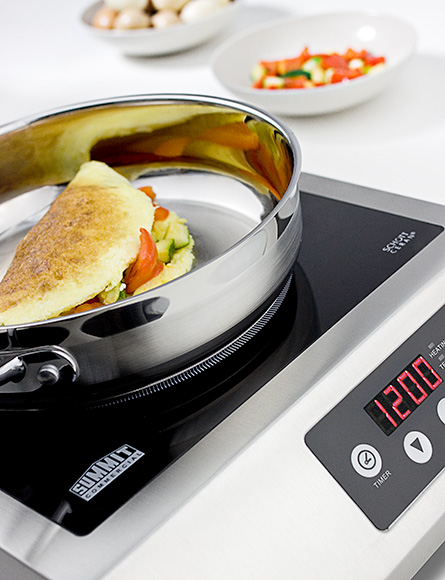 Value Line Wall Ovens
All SUMMIT wall ovens are made in the U.S.A. Our gas and electric models are specially designed to fit old hard-to-fit cut-outs, including Welbilt, Slattery, and Caloric cut-outs.
European Speed Oven
Enjoy the convenience of a microwave, convection oven, and grill in one elegant appliance with our CMV24. This combination unit meets all of your heating needs with reduced cooking time for true efficiency.
Induction Cooktops
Safer cooking, faster heating, easier cleanup and energy savings come standard with SUMMIT's complete line of induction cooktops. We offer built-in and portable units, all made with Schott Ceran glass and innovative cooking technology that utilizes electromagnetic heat.
Click here to learn all about the benefits of induction cooking
Popular Cooking Appliances By Summit