ACCUCOLD LAUNCHES NEW LINE OF LABORATORY REFRIGERATION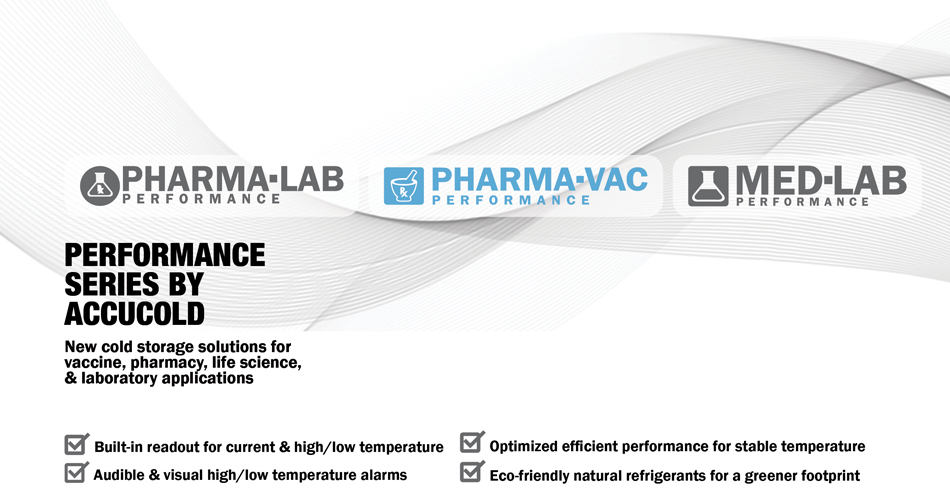 Performance Series By Accucold
Introducing Compact, Undercounter, ADA Height, & Full-Sized Refrigerators For Laboratory Applications

Bronx, NY, September 12th, 2019—Accucold, a division of Felix Storch, Inc. (FSI), has launched a new series of purpose-built refrigeration to meet the demanding needs of scientific, life science, laboratory, and medical cold storage applications. Available in multiple sizes, the Performance Series Med-Lab line expands Accucold's cold storage equipment offering into the life science market.

Each unit is designed specifically for optimum performance and convenient use in busy laboratory settings. All models feature an intelligent microprocessor digital temperature controller that keeps the current and high/low temperature viewable without the need to open the door. The temperature is read from a buffered probe stored in a glycol-filled bottle to better simulate the temperature of the product. An additional sensor reads the air temperature. This equipment is designed to operate between 2 and 10ºC, with password-protected parameters that allow experienced staff to adjust as needed.

"Life science storage applications require incredibly precise and reliable cold storage," says Mark Manders, Vice President of the Accucold division. "With a +/- 1ºC temperature variance, we're confident that the Med-Lab series will meet those standards while offering the convenient features that makes daily use easier for laboratory staff."

Additional features include self-closing doors, keyed locks, and alarms for high/low temperature excursions, power outages, and door ajar warnings. Units are available with glass or solid doors in sizes that range from 1 cu.ft. to 15 cu.ft. To learn more, visit accucold.com/medlab or call 718-893-3900.
Summit Appliance Launches the Industry's First Line of ADA Compliant Under Counter Kegerators
The Built-In Specialists Introduce Commercial Beer Dispensers Sized For Installation Under Lower ADA Compliant Counters

Bronx, NY, June 24, 2019 - For decades, Summit Appliance, a division of Felix Storch, Inc. (FSI), has been answering the need for built-in appliances sized to fit under lower ADA compliant counters. Now, the Bronx-based manufacturer is filling a long-empty appliance gap with kegerators sized at just 32 inches high.

Available in stainless steel (SBC58 series) or with a glass door (SBC56 series), Summit's newest kegerators are commercially approved to NSF-7 standards for use in foodservice applications. The units feature a front-breathing design that allows them to be installed under a counter with minimal clearance, important in size-constrained areas following ADA guidelines that require countertops be no higher than 34 inches.

"From sports stadiums to the growing trend of shared office spaces, we've seen a sharp increase in the demand for ADA compliant beverage equipment," says Paul Storch, President of Felix Storch, Inc. "Beer dispensers have always posed a challenge to the appliance industry, but our engineering team has come up with an incredible solution that keeps all the features of a standard kegerator but in that key 32 inch size."

Summit's kegerators are available with or without tapping equipment, allowing alternate uses for wine or cold brew coffee dispensing. The interior can store up to two sixtel sized kegs. Additional full-sized and outdoor kegerators are available. To review products, click here.
Felix Storch, Inc. Achieves ISO 9001:2015
Appliance Manufacturer Reaffirms Its Commitment To Quality & Customer Satisfaction With the Latest International Quality Management Standards

Bronx, NY, March 9, 2017—Felix Storch Inc. (FSI), a manufacturer and distributor of specialty appliances, has upgraded its ISO certification from 9001:2008 to the newest quality management standard, 9001:2015. The company has been serving the residential, medical, commercial, and hospitality markets since 1969 and received its initial ISO 9001:2008 certification in 2015.

"We have always emphasized quality in both our products and operations, so achieving ISO 9001:2015 is a natural and important step for our company," says Paul Storch, President of Felix Storch, Inc. "Upgrading to the newest standard was a positive challenge, as it helped our business improve our overall operational and management systems."

To obtain ISO 9001:2015 certification, FSI's management and administration system was evaluated by QAS International, a certification system that has been operating internationally for over twenty years. FSI was approved as an OEM manufacturer of specialty major appliances for the medical, commercial, hospitality, and residential markets.

ISO 9001:2015 is the latest of the 9001 quality management standards set by the International Organization for Standardization (ISO). The newest standards include a greater emphasis on continuous improvement, leadership engagement, risk assessment, and supply chain management.

In addition to ISO 9001:2015 certification, FSI's calibration laboratory under its Accucold medical division has ISO/IEC 17025:2005 certification through Perry Johnson Laboratory Accreditation, Inc. This laboratory is used for calibrating temperature monitoring equipment for medical, scientific, and commercial refrigeration markets.
SUMMIT APPLIANCE INTRODUCES QUIETER & MORE EFFICIENT MINIBARS FOR THE HOTEL INDUSTRY
Solid State Models Offer Huge Savings & Safer Operation Over Absorption Models

Bronx, NY, October 17th, 2016—Summit Appliance introduces a new line of silent minibars designed and priced to offer huge advantages over standard absorption units. Using an innovative Peltier heat pump system, the MBH series provides an environmentally friendly, energy-saving alternative for the hotel industry at an even lower cost.

Known for its extensive lineup of smaller kitchen appliances, Summit has a long relationship with the hospitality industry, often furnishing complete hotel suites with ranges, refrigerators, cooktops, and microwaves. After years of offering absorption minibars, the Bronx-based manufacturer is now looking at more efficient alternatives.

"Many of our hotel customers demand noiseless refrigeration, which you can't achieve using a compressor-based refrigerator. On the other hand, silent absorption minibars pose some risk due to the dangers of ammonia they use in their cooling system," says Paul Storch, president of Felix Storch, Inc. "Our solid state thermoelectric models produce the same silent result as absorption units but with safer, greener construction."

Based on laboratory tests, Summit's MBH series of solid and glass door minibars uses 30% less energy than absorption models. Because these units do not contain any fans or other moving parts, the vibration-free operation is absolutely silent, while the cooling system utilizes non-CFC-containing materials for a smaller carbon footprint.

Summit's MBH minibar series is now available. To learn more, visit www.summitappliance.com/minibars or call 1-800-932-4267.
ACCUCOLD BY SUMMIT APPLIANCE LAUNCHES NEW COMPANY WEBSITE
Medical & Laboratory Refrigeration Brand Redesigns Website For an Improved User Experience

Bronx, NY, August 9, 2016—Accucold, a division of Felix Storch, Inc., has launched a new mobile-friendly website design for its medical, laboratory, and scientific refrigeration product line. The new version of www.medicalrefrigerators.com was developed to create an easier customer experience in navigating the company's large product catalog, as well as provide various resources for the laboratory refrigeration industry.

Accucold specializes in manufacturing refrigerators and freezers for a variety of healthcare and scientific applications, from general purpose use in staff rooms to vaccine storage in hospitals. The website organizes the product catalog by application to help guide users to the proper feature level. All product categories include multiple search filters to enable users to narrow down their product choices to their exact specifications.

"The institutional refrigeration industry covers a very diverse range of products and applications," says Paul Storch, President of Felix Storch, Inc. "Our medical division website has been designed to meet the needs of a variety of customers, from pharmacies that need a compact locking refrigerator to laboratories searching for freezers than can store biological samples at ultra low temperatures." The website also includes products from Felix Storch, Inc.'s PureTherm division of warming cabinets.

In addition to the new layout, the website also includes several resources for medical refrigeration users including temperature conversion charts, FAQs about vaccine storage, and best practices for using institutional appliances. To learn more, visit medicalrefrigerators.com.