ACCUCOLD INTRODUCES ANTIMICROBIAL PURE COPPER HANDLES

ACCUCOLD INTRODUCES ANTIMICROBIAL PURE COPPER HANDLES
Bronx, NY, April 29, 2020 — Accucold, a division of Felix Storch, Inc. (FSI), presents a safeguard against microbes and viruses, including COVID-19, with pure copper handles for refrigerators and freezers used in hospitals, waiting areas, patient rooms, doctors' offices, schools, and similar environments seeking to ensure a cleaner, safer environment.

In the wake of COVID-19, ensuring clean and sanitary medical facilities has never been more vital to keeping clinical staff, patients, and visitors safe. One of the simplest methods for safeguarding – and ensuring a cleaner facility – is adding copper handles to appliances. Copper kills microbes in a shorter timeframe than other metals, helping to lessen microbe transfer, as well providing a durable, stylish finish to refrigeration.

Available on Accucold's wide range of healthcare, medical, foodservice, and vaccine grade refrigeration, the new copper handle option comes in two style options. The "TBC" option includes a 12" long towel bar style handle, while the "CP" option comes with a full-length pipe style handle. Equipment sizes range from 1.4 to 21 cu.ft. capacity in compact, counter height, ADA-compliant, and full upright size, with white, black, and stainless steel exterior options. These handles are installed in FSI's Bronx, NY, facilities.

"We wanted to create an easy, yet incredibly effective and safe solution that not only meets the needs of medical professionals but also helps to protect patients and guests," says Paul Storch, President of Felix Storch, Inc. "The last thing someone wants to worry about when visiting a medical facility is microbes, and we believe that copper handle refrigerators and freezers help to ensure a cleaner facility while offering peace-of-mind." Accucold's pure copper accented refrigerators and freezers are available through a nationwide network of equipment resellers. To learn more, visit www.accucold.com/copper or call 1-888-4-MED-LAB.


ACCUCOLD INTRODUCES MOMCUBE™ BREAST MILK REFRIGERATION STORAGE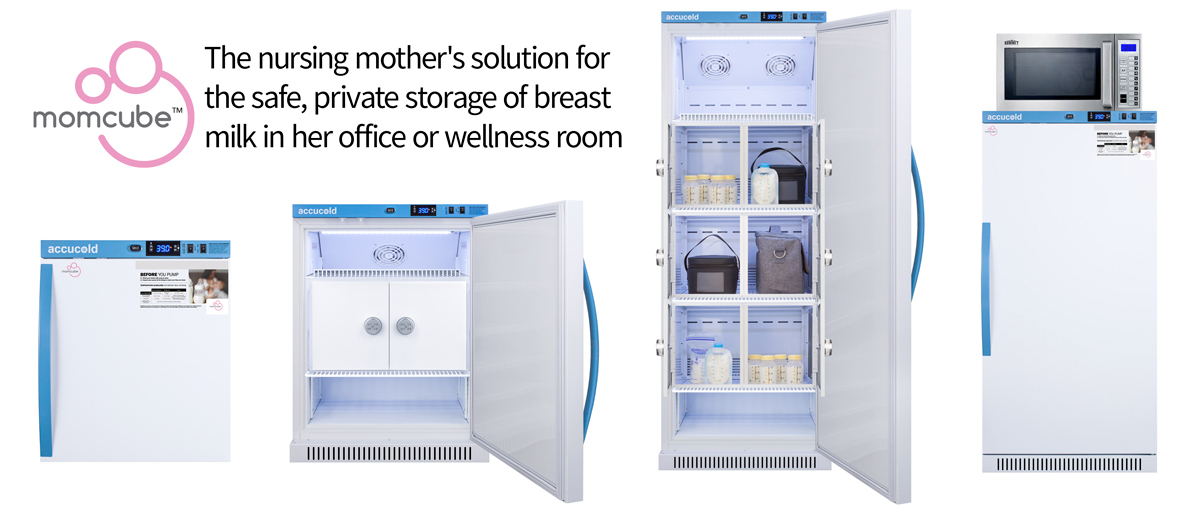 MOMCUBE™ Provides Safe Storage of Breast Milk for Nursing Mothers
Bronx, NY, January 31, 2020 — Accucold, a manufacturer of medical and life science equipment, presents the ideal storage solution for nursing mothers. The MOMCUBE™ is a new line of breast milk refrigeration perfect for medical facilities, maternity wards, employee wellness rooms, daycare centers, and work environments adhering to Section 4207 of the Patient Protection and Affordable Care Act.

The MOMCUBE™ is laboratory-tested to stay within the CDC-recommended temperature range ensuring reliable, safe storage of breast milk. Designed to meet a multitude of storage needs, the MOMCUBE™ has two interior options. The "MCLK" series features locking compartments to provide added privacy for mothers storing bottles, travel bags, and other pumping accessories. The "MC" option features adjustable wire shelves that can be repositioned for optimal storage capacity. All MOMCUBE™ units come with an LED display for easy temperature viewing, audible and visual alarms to ensure temperature stability, and a factory-installed door lock for added security.

"We wanted to create an easy-to-use but incredibly reliable solution that meets the very specific needs of nursing mothers," says Emily Intravia, Marketing Manager for Felix Storch, Inc. "When a woman returns to the workplace after maternity leave, the last thing she wants to worry about is storing her baby's milk next to a coworker's leftover burrito. We believe the MOMCUBE™ allows for privacy and peace-of-mind for mothers and employers alike."

The MOMCUBE™ comes in a white cabinet with an easy-grip blue handle. Sizes range from 1 to 15 cu.ft. capacity in countertop, undercounter, ADA compliant, and full upright size. Accucold also offers a complementary line of freezers for longer term breast milk storage.

MOMCUBE™ refrigerators are available through a nationwide network of equipment resellers. To learn more about Accucold's MOMCUBE™, visit momcube.com or call 888-4-MEDLAB.

ACCUCOLD LAUNCHES NEW LINE OF LABORATORY REFRIGERATION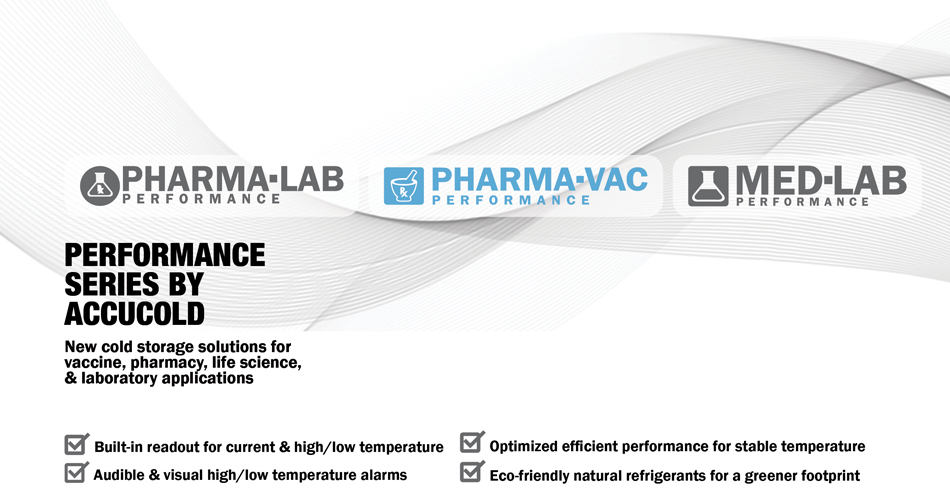 Performance Series By Accucold
Introducing Compact, Undercounter, ADA Height, & Full-Sized Refrigerators For Laboratory Applications

Bronx, NY, September 12th, 2019—Accucold, a division of Felix Storch, Inc. (FSI), has launched a new series of purpose-built refrigeration to meet the demanding needs of scientific, life science, laboratory, and medical cold storage applications. Available in multiple sizes, the Performance Series Med-Lab line expands Accucold's cold storage equipment offering into the life science market.

Each unit is designed specifically for optimum performance and convenient use in busy laboratory settings. All models feature an intelligent microprocessor digital temperature controller that keeps the current and high/low temperature viewable without the need to open the door. The temperature is read from a buffered probe stored in a glycol-filled bottle to better simulate the temperature of the product. An additional sensor reads the air temperature. This equipment is designed to operate between 2 and 10ºC, with password-protected parameters that allow experienced staff to adjust as needed.

"Life science storage applications require incredibly precise and reliable cold storage," says Mark Manders, Vice President of the Accucold division. "With a +/- 1ºC temperature variance, we're confident that the Med-Lab series will meet those standards while offering the convenient features that makes daily use easier for laboratory staff."

Additional features include self-closing doors, keyed locks, and alarms for high/low temperature excursions, power outages, and door ajar warnings. Units are available with glass or solid doors in sizes that range from 1 cu.ft. to 15 cu.ft. To learn more, visit accucold.com/medlab or call 718-893-3900.
Summit Appliance Launches the Industry's First Line of ADA Compliant Under Counter Kegerators
The Built-In Specialists Introduce Commercial Beer Dispensers Sized For Installation Under Lower ADA Compliant Counters

Bronx, NY, June 24, 2019 - For decades, Summit Appliance, a division of Felix Storch, Inc. (FSI), has been answering the need for built-in appliances sized to fit under lower ADA compliant counters. Now, the Bronx-based manufacturer is filling a long-empty appliance gap with kegerators sized at just 32 inches high.

Available in stainless steel (SBC58 series) or with a glass door (SBC56 series), Summit's newest kegerators are commercially approved to NSF-7 standards for use in foodservice applications. The units feature a front-breathing design that allows them to be installed under a counter with minimal clearance, important in size-constrained areas following ADA guidelines that require countertops be no higher than 34 inches.

"From sports stadiums to the growing trend of shared office spaces, we've seen a sharp increase in the demand for ADA compliant beverage equipment," says Paul Storch, President of Felix Storch, Inc. "Beer dispensers have always posed a challenge to the appliance industry, but our engineering team has come up with an incredible solution that keeps all the features of a standard kegerator but in that key 32 inch size."

Summit's kegerators are available with or without tapping equipment, allowing alternate uses for wine or cold brew coffee dispensing. The interior can store up to two sixtel sized kegs. Additional full-sized and outdoor kegerators are available. To review products, click here.
Felix Storch, Inc. Achieves ISO 9001:2015
Appliance Manufacturer Reaffirms Its Commitment To Quality & Customer Satisfaction With the Latest International Quality Management Standards

Bronx, NY, March 9, 2017—Felix Storch Inc. (FSI), a manufacturer and distributor of specialty appliances, has upgraded its ISO certification from 9001:2008 to the newest quality management standard, 9001:2015. The company has been serving the residential, medical, commercial, and hospitality markets since 1969 and received its initial ISO 9001:2008 certification in 2015.

"We have always emphasized quality in both our products and operations, so achieving ISO 9001:2015 is a natural and important step for our company," says Paul Storch, President of Felix Storch, Inc. "Upgrading to the newest standard was a positive challenge, as it helped our business improve our overall operational and management systems."

To obtain ISO 9001:2015 certification, FSI's management and administration system was evaluated by QAS International, a certification system that has been operating internationally for over twenty years. FSI was approved as an OEM manufacturer of specialty major appliances for the medical, commercial, hospitality, and residential markets.

ISO 9001:2015 is the latest of the 9001 quality management standards set by the International Organization for Standardization (ISO). The newest standards include a greater emphasis on continuous improvement, leadership engagement, risk assessment, and supply chain management.

In addition to ISO 9001:2015 certification, FSI's calibration laboratory under its Accucold medical division has ISO/IEC 17025:2005 certification through Perry Johnson Laboratory Accreditation, Inc. This laboratory is used for calibrating temperature monitoring equipment for medical, scientific, and commercial refrigeration markets.