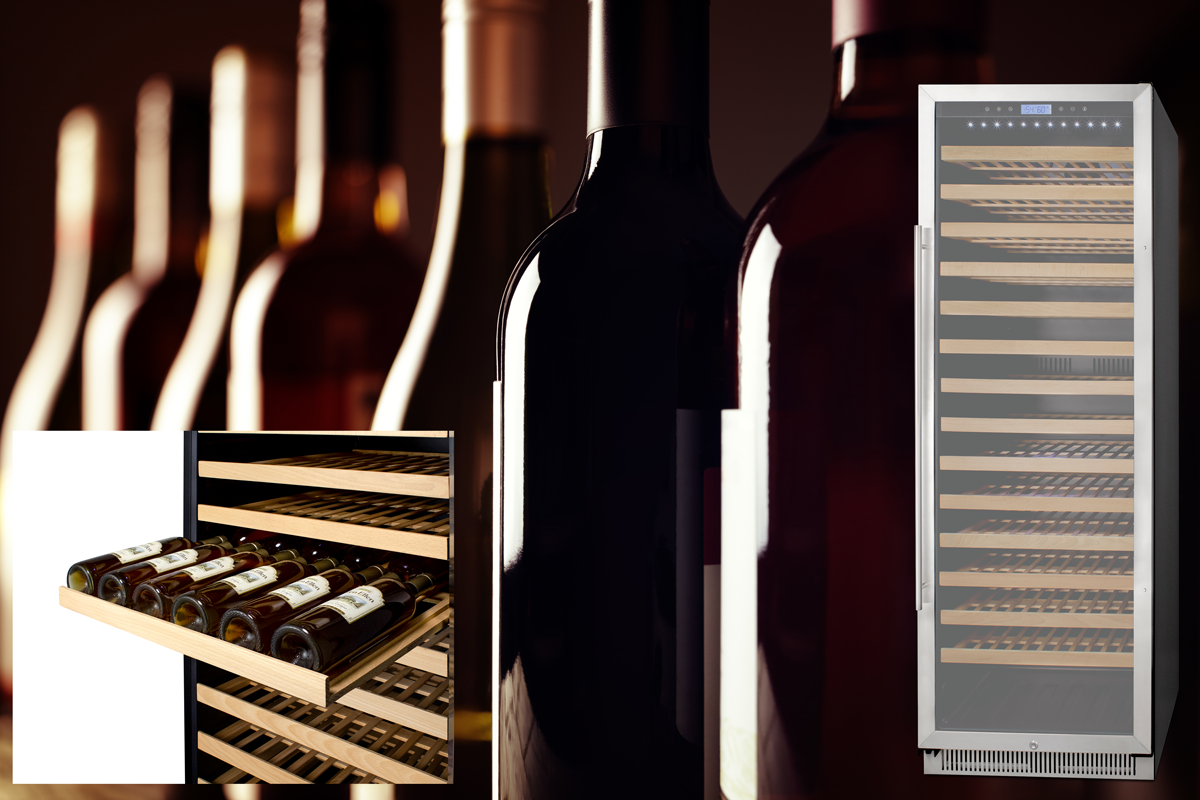 7 Innovative Ways to 
Repurpose Your Wine Refrigerator


A wine refrigerator holds and preserves your  wine - makes sense, right? But did you know that with a little creativity, your wine refrigerator (also called a wine cellar) can do so much more? We have some suggestions for how to repurpose your wine refrigerator to not only help stretch your food budget but also enhance life at home. Here are 7 innovative ways to make use of your wine refrigerator!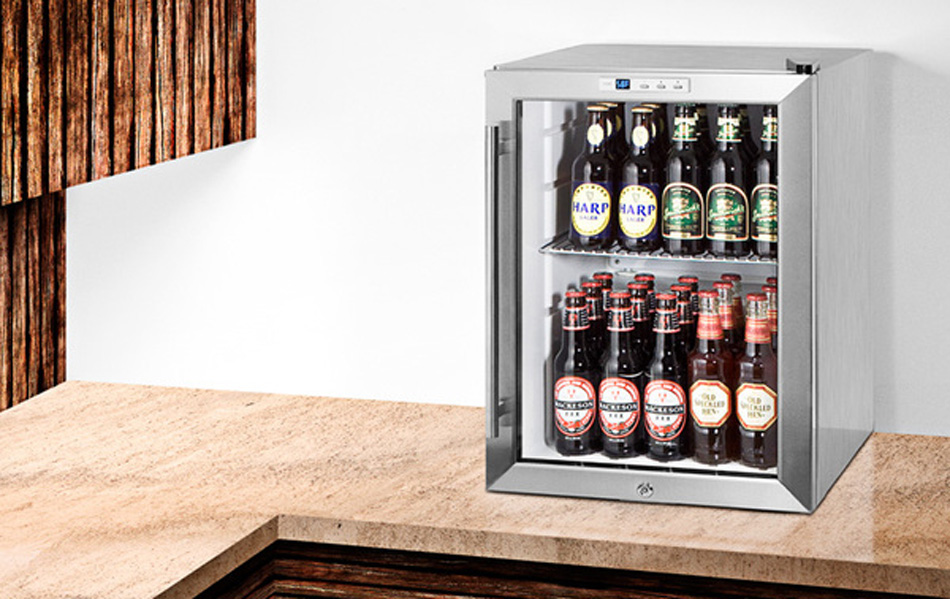 Store your craft beer: Many wine refrigerators have dual zones – separate zones that can be set to temperatures for storing white and red wine. Many craft beers are ideally served at temperatures warmer than your household refrigerator, and have ideal temperatures in common with one of the two zones in your wine fridge. The larger sizes and shapes of many craft beers will fit well into the special wine shelving of your wine cellar. If your craft beer collection is more than your wine refrigerator can store, Summit has a number of beer storage solutions under its Pub Cellar™ brand.
Store mineral water: Premium mineral water is recommended to be served at 46 to 50°F (8 to 10°C), warmer than your kitchen refrigerator keeps it. Your wine fridge will normally operate at this temperature in its white wine section – or may be capable of being adjusted to this range.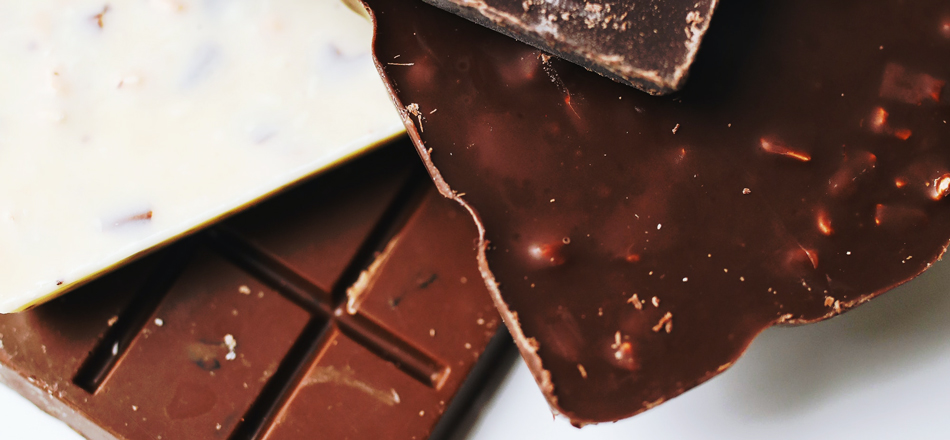 Consider storing fine chocolate with your red wine: Chocolate is one of those hard to store foods. It is ideally stored at a few degrees lower than room temperature (65 to 68°F or 18 to 20° C), which is normally close to the red wine storage temperature in your wine cellar. You may need to purchase a stainless-steel tray to hold the chocolate so it doesn't fall though the wine shelves. (Hint: do not use tray types that could rust or corrode from the temperature and humidity in the wine cellar. Be sure any stainless steel tray is 304 grade.)
Don't forget the vermouth: While many people store vermouths at room temperature, they are really fortified wines, and will be preserved better and last longer in your wine fridge. Nobody wants their martini or Manhattan to be less than perfect! Vermouth stores perfectly with your red wines.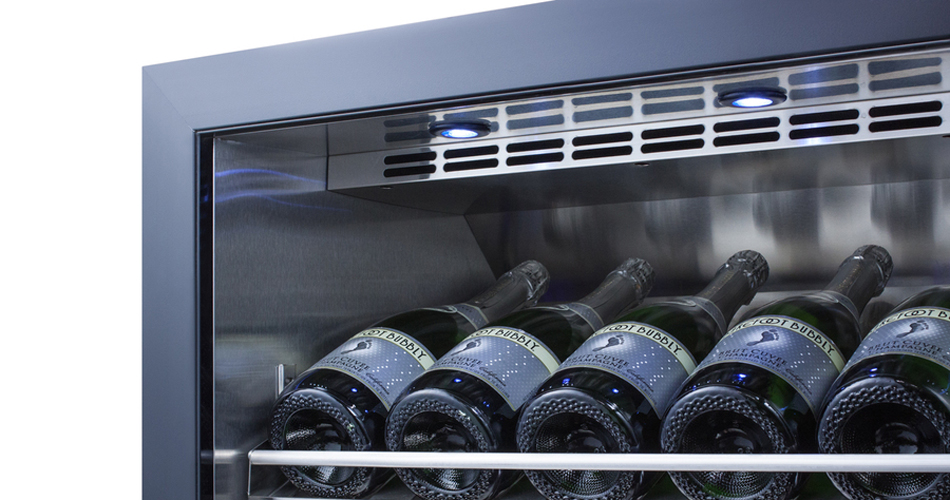 Champagne is tricky: Fine champagne should be stored at 55°F (13°C). Many wine cellars can achieve this temperature in one or both zones. If champagne is part of your daily routine, consider a Summit dual zone wine cellar where one zone can be set for 55°F. Alternatively, for large scale storage of champagne, Summit offers commercial champagne fridges designed with shelving for proper and safe champagne display and storage.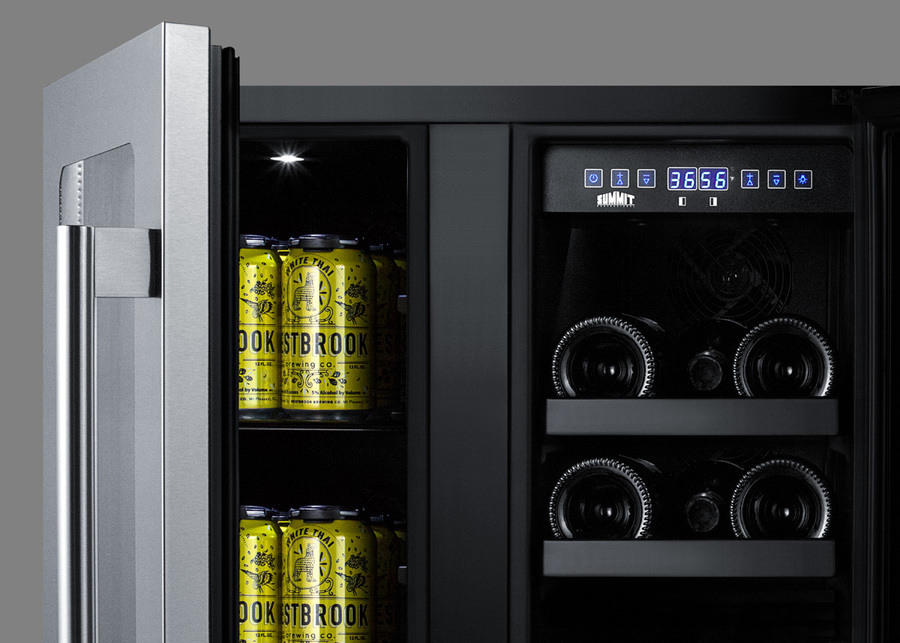 Prosecco – the new white wine. Similar to red and white wines, prosecco has different storage and serving temperatures. Fortunately, your dual zone wine cellar can usually help. Store prosecco at 50 to 59°F (10-15°C), but is best served at 43 to 47°F (6 to 8°C). 
Turn your wine cellar into a pantry for fruits and vegetables. At this time, when you shop less often and want to reduce waste, keeping fruits and vegetables fresh and edible longer is essential. Your wine refrigerator can help. Through trial and error, every homeowner has their own ideas of what to keep in the fridge and what to keep at room temperature. However, for many fruits and vegetables there are ideal temperature zones that are in-between these two extremes.  Storing fruits and vegetables properly can prolong their shelf life and help reduce waste. So how can your wine fridge help?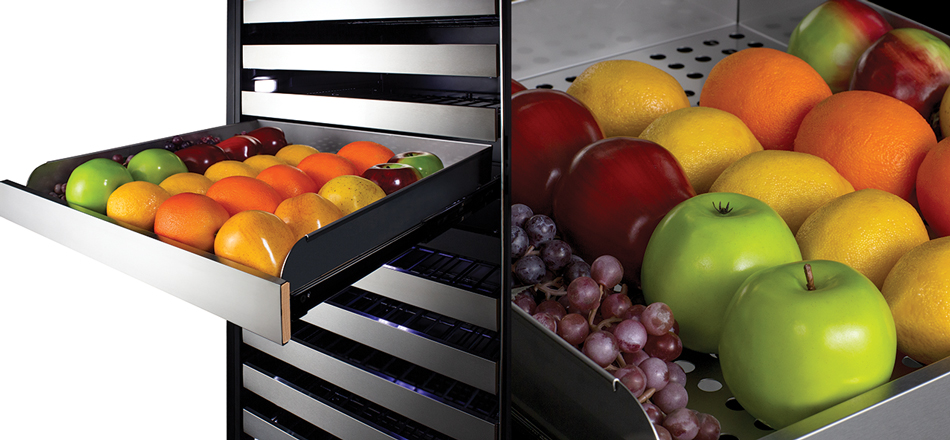 Dual-zone wine refrigerators are ideal for properly storing fruits and vegetables as they have separate compartments that can isolate based on temperature, as well as ensure fruits and vegetables that contain ethylene (a gas that some fruits and vegetables emit and can quicken ripening and thus spoilage) are properly isolated if needed. Additionally, many Summit wine refrigerators have digital controls for easy temperature management of each zone, allowing you to choose the proper temperature for safe storage. 
If repurposing your wine refrigerator for produce storage, you will want to keep your fruits and vegetables from touching the wooden shelves in many wine fridges. The moisture is not good for the wood (you will probably use this wine cabinet for fine wine at some point in the future) and the compounds in wood and its finishes are not ideal for open food. Beyond wooden shelves, many wine refrigerator interiors are not designed for produce storage as they are built to secure wine bottles, which are generally wider than say a peach or grapes. Summit, however, has created shelf kits (see SHELFKITSWCP and SHELFKIT532) for two of our most popular wine cellar lines to avoid this problem. These kits include stainless steel, perforated shelving that sits atop the existing wire shelving, making it the perfect space for you to store your fruits and vegetables.  
Furthermore, Summit makes a Pantry with a cold zone (36-43°F) and a pantry zone (41-68°F) specifically designed for the proper and safe storage of produce. It also comes with a Produce Storage Guide that summarizes ideal storage temperatures for common fruits and vegetables, as well as gives recommendations on where to store your produce. An additional resource is  FoodKeeper App from the Department of Agriculture, which provides an extensive breakdown of storage recommendations for produce, meats, diary, and more. 
As you can see, there are many ways in which you can repurpose your wine fridge to get the most out of its use, that not only stretches your food budget, but also ensures your family has the right storage conditions for all the produce, sweets, and beverages they love.