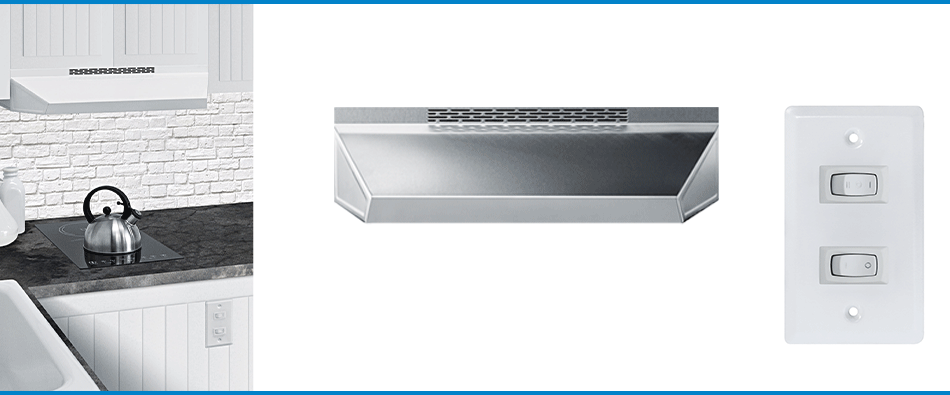 ADA COMPLIANT RANGE HOODS: 
ALL YOU NEED TO KNOW
What Is ADA?
In 1990, the Americans with Disabilities Act (ADA) was passed to prohibit discrimination against people with disabilities in employment, transportation, public accommodation, communications, and governmental activities. Title III of these guidelines ensures that no individual is denied the full and equal enjoyment of goods, services, facilities, or accommodations of any public accommodation, commercial facility, transportation provided by public entities, and private entities that offer examinations or courses relating to licensing and certification.
ADA Compliant and Range Hoods
In terms of appliance design, ADA guidelines can apply in a variety of ways, most commonly to ensure individuals with disabilities can experience full access to the appliances. For kitchen range hoods, ADA guidelines come into effect when discussing the accessibility of the controls.
Traditional range hoods are self-contained, with the switches for the fan and light located in front of or under the hood. When installed over a range or cooktop, these range hood switches are out of reach for some users, being located at least 60 inches off the floor.
According to Sections 308 and 309 of the ADA Guidelines, range hood switches (or "operable parts") must be located 15 to 48 inches above the floor. If there is any kind of obstruction (such as a cabinet or stove), the height requirement changes based on the depth of the obstruction. If the depth is 20 inches or less, the controls still must be 48 inches or lower. If the depth exceeds 20 inches, the controls must be located no higher than 44 inches off the floor.
ADA kitchen requirements state that the range hood controls must be installed separately from the actual hood. ADA compliant range hoods therefore have the controls mounted remotely by a certified electrician, with the units wired to operate from a dedicated wall switch. According to Section 309 of the ADA Guidelines, the range hood remote switch must be operable with one hand and not require tight grasping, pinching, or twisting of the wrist. Most range hood controls function similarly to a light switch or easy slide control.
ADA Compliant Range Hoods By Summit
Summit manufactures several lines of range hoods styles in a variety of dimensions, all equipped with remote wall switches to be installed according to ADA guidelines.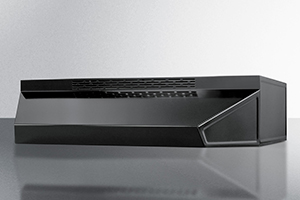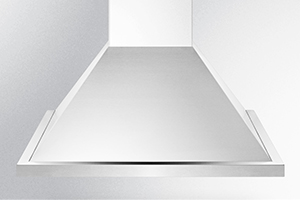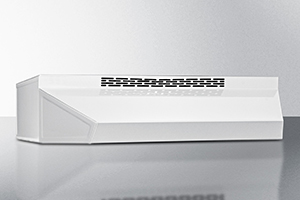 Ductless Under Cabinet Range Hoods
For apartments and other settings without ducting, Summit's ADAH17 series offers a value solution to ventilation. These ductless range hoods are always in stock and available in white, black, and stainless steel for 18 inch, 20 inch, 24 inch, 30 inch, and 36 inch wide cooking surfaces. Made in the USA.
View Models
European Wall-Mounted Range Hoods
Stainless steel wall mount range hoods with curved or trapezoidal canopies are available in 24 inch, 30 inch, and 36 inch wide sizes. These are designed for ducted use but can be converted to recirculating operation with a charcoal filter set.
View Models
Convertible Under Cabinet Range Hoods
Summit's ADAH16 series features Under Cabinet Convertible Range Hoods in white, black, and stainless steel. These are special order models available in a variety of sizes: 18 inch, 20 inch, 24 inch, 30 inch, and 36 inch widths. Made in the USA.
View Models