Limited Space. Unlimited Value.
SUMMIT's All-In-One Combination kitchens create a complete working kitchen station in one easy-to-fit unit. Available in 30", 39", 48" and 60" widths, these full-service kitchenettes include a working sink, two-burner electric cooktop, storage cabinets, and a refrigerator-freezer. Whether you need a compact service station for a small motel room or an all purpose kitchen in a dormitory suite, SUMMIT's combo kitchens offer the most choices and highest quality at the best price in the industry.
A Complete Kitchen In One Box
Our kitchenettes let you cook, prepare, wash, and store your food in one place. All units include:
Compact refrigerator with full freezer compartment
Two-burner electric cooktop in coil or smoothtop style
Deep stainless steel sink with faucet
Full-sized cabinets with interior shelves
One-piece stainless steel countertop for easy cleaning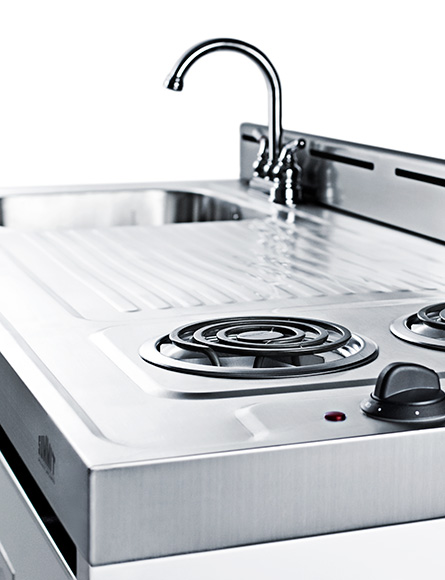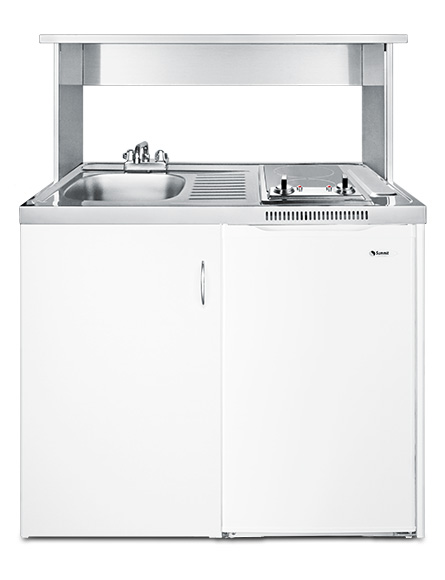 Additional Storage For Easy Convenience
Enjoy more storage possibilities with SUMMIT's Space Saving Appliance Station, a specially constructed mantle designed to house microwaves, coffee makers, dishes, or any kitchen item. Available in white or stainless steel, these durable shelves are simple to install and carefully sized to keep items in reach.
C39GLASS shown with stainless steel appliance station
Popular All-In-One Kitchenettes