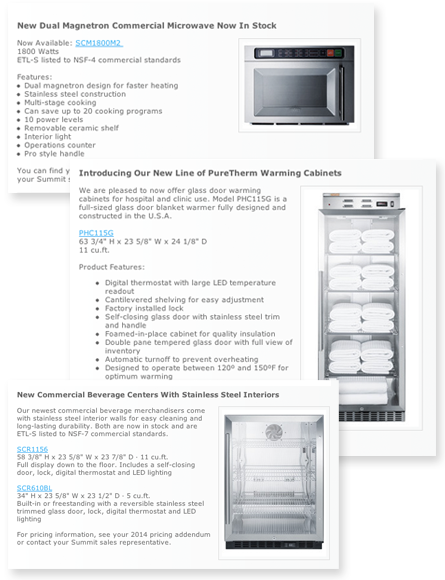 RSS Feeds Keep your website up to date with SUMMIT's product line using our new RSS feeds.
Click here to subscribe to our New Product Feed >

Click here to subscribe to our Product Updates Feed >
Register as an authorized dealer to access our Out of Stock Feed
New Products Feed
Subscribe to our New Products Feed to learn what models we are adding to our collection. The feed will provide a preview of these new products with a short description and photo.

When you want to put these models on your website, go to our Dealer News page to get the new data by downloading the product category.
Product Updates
Product Updates feed will display changes we make to our existing product data, including updating photography, editing features, and adding new user documents such as manuals and architectural drawings.

We want ensure you have the most current product data so that your website displays the most up-to-date information and images for your customers.
Out of Stock Notices
Use this feed to keep track of which SUMMIT units are out of stock and when they will be back in our warehouses. We also include links to similar models that may be ordered as an alternative.

This feed is available for our registered dealers only.
To register, visit our Dealer News section.