Customizable Options
Virtually all of our Summit and Accucold refrigerators and freezers can be customized to your exact specifications, whether that means reversing your unit's door swing, setting a wider range on its digital thermostat, or equipping your unit with added features for temperature monitoring.

From our professional door finishes to assortment of lock choices, Summit strives to offer the most complete line of customization opportunity for your appliance.

Can't find what you're looking for? We invite you to call our helpful sales team at 718-893-3900 to discuss custom building your ideal appliance.

Browse our customizable options3>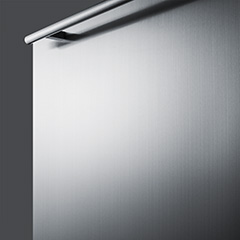 Door & Cabinet Finishes
From elegant stainless steel to industrial diamond plate, Summit offers a variety of exterior finishes to suit your kitchen style. View our selection-->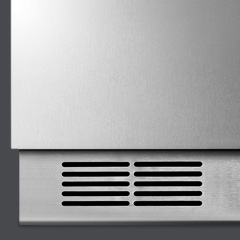 Exterior Options
Finish your look with just the right touch, including stainless steel hinges and kickplates, leveling legs, self-closing door springs, and commercial caster sets in 3" or 6" heights. You can view your available options on each product page, or contact our sales team at 718-893-3900 ext. 507 to discuss customizing your unit.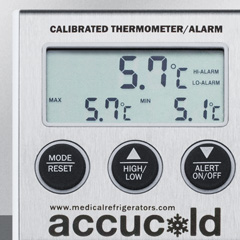 Temperature Monitoring
We offer a variety of factory installed temperature monitoring solutions, including NIST calibrated thermometers, digital thermostats, and access ports for users to install their own monitoring equipment. For more information, visit our medical website.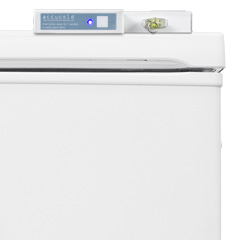 Data Logging
Accucold by Summit Appliance offers an innovative data logger that records temperature to a USB drive for easy analysis in Microsoft Excel or any spreadsheet software. Learn more at our medical website-->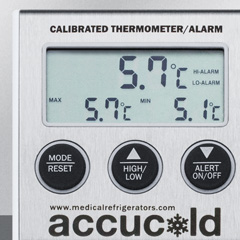 Alarm Options
All Summit refrigerators can be equipped with an audible high/low temperature alarm, power failure alarm, or open door alarm. To learn more about our NIST calibrated temperature alarm, click here or contact our sales team at 718-893-3900 ext. 507.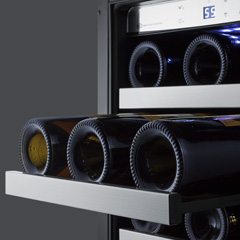 Shelving Options
Select Summit units can be ordered with alternative shelving options, including stainless steel, spill-proof glass, wire, or wine shelves in scalloped or wooden style. For details, contact our sales team at 718-893-3900 ext. 507.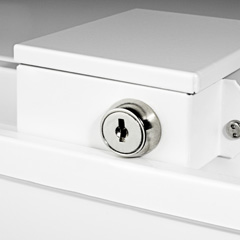 Locking Options
Many Summit refrigerators include factory installed keyed locks, but we also offer keypad locks (AC or battery powered), combination-based locks, and latches to help keep doors closed in mobile applications. For more information, visit our medical website.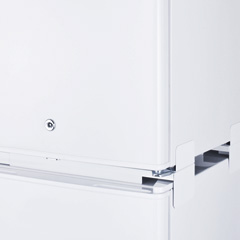 Additional Accessories
Many of our product accessories can be viewed and ordered through our website. To see these aftermarket options, including pedestals, dollies, stacking racks, and more, browse our accessory page.